---
Product Description
Introducing the JayFlex Hyperbell Kettlebell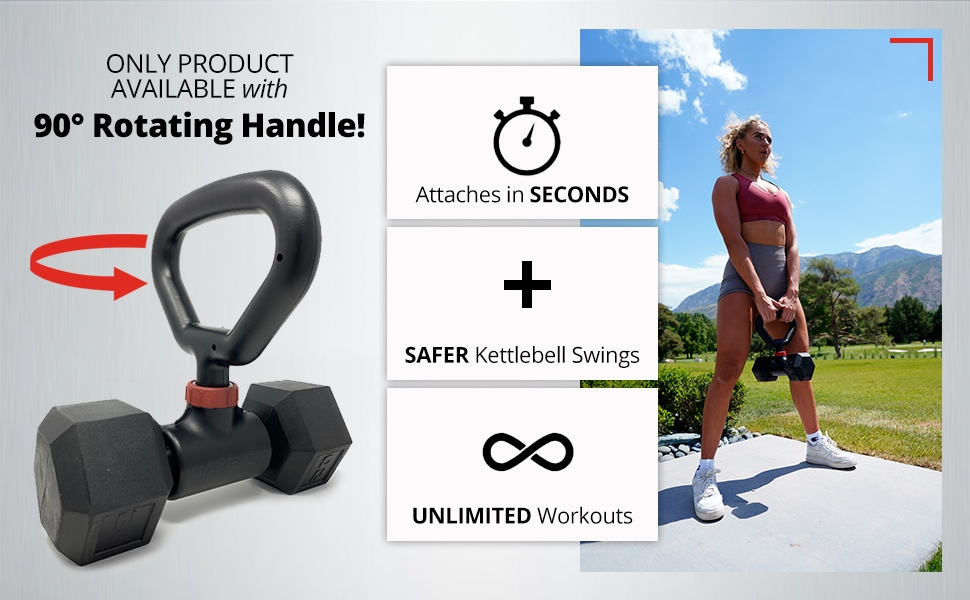 The most versatile dumbbell kettlebell adaptor on the market, our Hyperbell kettlebell handle grips are the ONLY product that rotates 90 degrees giving you greatest flexibility in kettlebell strength training workouts. Our sleek portable design is perfect for travel, use at home or even in the gym when traditional kettlebells are not available. Rated to hold up to 100lbs per handle you won't need any other attachments or accessories to convert your dumbbells into kettlebells. The Hyperbell kettlebell allows you to do a variety of different workouts including kettlebell swings, squats, lunges, shoulders, chest, great for cross fit workouts and any other home fitness workout that you can think of. In addition to being proud of the most versatile fitness kettlebell handle on the market we are equally excited to say this product is manufactured in the USA with the highest of quality standards. Our entire line of Jayflex fitness products are designed to make at home workouts safer, more accessible, and to help you maximize your results!
Maximize Your Home Workout
Perfect for Shoulders

Our dumbbell converter handles unlock your home fitness workout routine to include many more movements. So you can get the results you want!

Safter Kettlebell Swings

We are the only product with and adjustable handle that turns 90 degrees so you can safely do kettlebell swings!

Great for doing Squats!

Be more comfortable with our uniquely designed handle grip to do squats and other leg workouts.